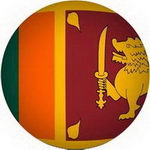 Sri Lanka is an island in South Asia (South India), with about 20 million inhabitants and its size three times the size of Israel. Sri Lanka gained independence in 1948 and that year was under the rule of the British. Most of the population is Sinhalese group and with the Buddhist religion. Sri Lanka bloody struggle occurred for decades between the Tamil minority and the Sinhalese majority were murdered during prime ministers and presidents in Sri Lanka and the rebel leaders. In 2008 and 2009 intensified the war and the government defeated the Tamil resistance north of the country and take control of the last strongholds of the Tamil knocking out the Tamil leader. Since that victory prevails in Sri Lanka quiet and calm. Tourism grows and grows every year. Paved new roads and the capital city is developing very rapidly. Built a modern seaport and airport.
Sri Lanka government is: a socialist democratic republic headed by a president. Sri Lanka democratic elections are held every six years.
Sri Lanka is considered to have the most liberal economy in South Asia. In 1978, the island has adopted a free trade policy of opening the market to international competition, privatization, Dhrgoliztzih and transparency of laws relating to investors and other moves that make Sri Lanka a destination more and more attractive for investors Mbhotz.hoki trading of Sri Lanka based on British laws.
The private commercial sector in Sri Lanka is a dynamic sector welcomes opportunities for joint ventures with foreign investors. Nevertheless, foreign investors can be a full owner of 100% of the level of their investments. Concessions are in agreement with the Council for Foreign Investments.
Double taxation and protection of investments
Sri Lanka has been one of the world's promises to invest in thanks to a number of systems and procedures that protect the investor. Article 157 Constitution of the island about security and protection of investment contracts.
Sri Lanka has signed Bilatrliim Investor Protection Agreements (IPA) with 27 countries. Sri Lanka independent system of courts which is also part of the security belt of foreign investors.
Sri Lanka has also signed agreements Bilatrliim double taxation with 38 countries.